Talking Pet Thermometer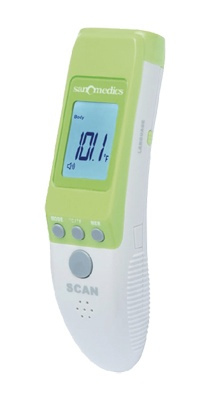 We're currently evaluating a Thermopet, the talking pet thermometer.  This is a no-touch pet thermometer which we found at the Trade Show last month.
We've always felt it important to have a thermometer available as a diagnostic tool. Until now, we're been using a Pet Ear thermometer. This is a wonderful tool, and has come down in price from where they were originally. Problem is that often your pet's ears can be very sensitive, and it can be difficult or uncomfortable to get a true reading
Enter the ThermoPet. Since this nifty unit is a non-contact device, it will return an accurate reading when held close to, rather than on or placed inside, your pet. It will speak and display the result in one second from your choice of places on your pet- abdomen, outside of the ear, upper gum or under the base of the tail.
How does it work? Similar to human temporal thermometers, the ThermoPet measures the infrared energy from your dog.
There is a small learning curve prior to using the device to assure accurate reading. It is calibrated for a dog's body temperature, so will be more accurate than a human digital thermometer. It speaks the reading as well as displaying the number and storing it in memory. It has a mode for surface and room temperature  readings, as well as the default Body setting.
If you're interested in learning more about The ThermoPet, we'll have our demo unit at Woofstock this year. Let us know if you'd like a demonstration or an opportunity to test it with your dog!