Well goodness gracious, this post is very late in coming! Somehow this has been sitting around just waiting to be published for the past few months. We were holding off until some of these arrived, but then it got caught up in a flurry of other activity. So here's the scoop on some of the new treats being offered this month, and coming next year!

Peace Berry Biscuits and more from Clear Conscience Pet
Last year we stumbled across a fascinating company at the Holiday Trade Show in Chicago. It was a pleasure to reconnect with them at this year's SuperZoo.
Clear Conscience Pet, based in Wilton, CT, has developed an simple yet healthy line of natural treats with a philosophy to match. The company was founded in 2010, but the owners have been involved with natural pet products since 1991.
Towards the end of last year, their Beef Slider Stickz were featured as a Treat of the Month. If you missed them then, you'll have a chance to try their Chicken Slider TenderStickz very shortly. Unlike most soft & chewy treats, these individually packaged strips are made without glycerin, propylene glycol, syrups or sugar.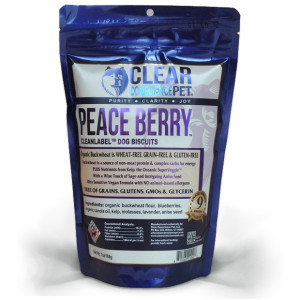 CCP has been working on a new packaging design, which was unveiled at SuperZoo. The new packaging is a simple resealable bag which offers details of each product's benefits in a simple and understandable way.
You'll have a chance to examine this later in the year with their Peace Berry biscuits. Peace Berry biscuits are made with Organic Buckwheat Flour, Organic Blueberries, Organic Canola Oil, Honey and Organic Lavender.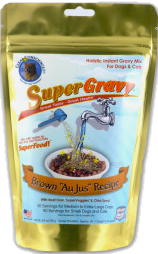 Their signature product is SuperGravy— a pet gravy mix which instantly improves both digestibility and the taste of dry pet food. Simply sprinkle the concentrated mix over your pet's dry food, then add a small amount of warm water. Mix for 30 seconds and stand back!
SuperGravy is made with humanely sourced organ meats, chia seed, organic veggies and more. Endorsed by veterinarians, SuperGravy is ideal for fussy eaters and can be an economical alternative to canned food. Ask for a sample of SuperGravy to be included with your next order!

Ruff Roots from Himalayan Dog Chews
Why is it that we have to travel out of town to find that interesting things are hiding right in our own back yard? One of the most intriguing new products at SuperZoo this year came from our friends at Himalayan Dog Treats just up the road in Mukilteo.
HDC announced their new chew treat, Ruff Roots, made from the root of super secret tree in Spain. Ruff Roots are long lasting and are an ideal chew for dogs that love to play with sticks or wood. The chews do not splinter, and work as a natural toothbrush to help decrease plaque.
The roots are harvested in a sustainable way, using only the tuber of the tree. Ruff Roots are expected to be available early next year.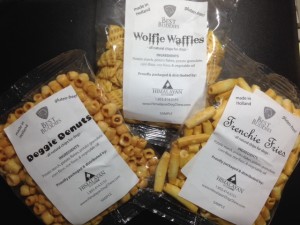 Also coming next year is the Best Buddies line of crunchy new treats from Holland. These bite-sized snacks are made with potato, corn and rice. They  are very low in fat and come in 3 shapes- Doggie Donuts, Wolfie Waffles, and Frenchie Fries.
I'm not ashamed to say they were one of one 3 goodies that passed the "human" taste test at this year's show.*  If you've been searching for a small, crunchy, low-fat treat these may be just what you (and your dog) have been craving.
*What else passed the taste test? Caru dog food and Grandma Lucy's Pumpkin treats. Yummy- read on!
Caru Dog Food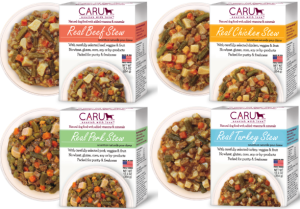 It's been quite a while since we came across a dog food that looked good enough to eat. It's one thing to be tempted by treats, but most dog foods just don't really look or read as very appetizing. I'm happy to say that Caru dog food has changed that!
Caru is a home-prepared meal in an easy open, recyclable package.  Just tear open the top, unfold, (no tools required) and pour out the ready to eat stew. The box can easily be re-closed if the entire contents is not used for a single meal.
Caru formulas are lightly cooked, with recognizable ingredients both in the box and on the Ingredient List. It is made in small batches, and is available in Beef, Chicken, Turkey and Pork Stew formulas. The food does not require refrigeration until it is opened.
Caru is quite appetizing to look at, with an aroma to match. Perhaps it was the triple digit temperatures outside, but one look at the display plate and I knew it was something that had to be tasted. It was rather late in the day by the time I saw the display, so we arranged to open a fresh box at the start of the next day to give it a true taste test. Did it hold up to appearances? Judge for yourself!
Caru will be available by mid-August. Watch for an introductory offer next month!
Pumpkin Treats from GrandMa Lucy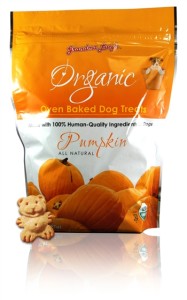 Zooming around the show floor for 8 hours a day can work up a bit of an appetite. It had been almost 6 hours since the Caru taste test, and the snack bar offerings on the show floor weren't all that appealing.
So it was a stroke of good luck that the Grandma Lucy's booth just happened to have some treat bags open, with a very attractive aroma wafting into the aisle. I was initially attracted to the Organic Peach oven-baked treats, but the taste was just a bit too subtle. "Try this," said the rep, holding out the bag of Organic Pumpkin.
I'm not a big pumpkin person, having had far too much overly-sweet pumpkin pie during a former life in Kentucky. But one bite of these mini Organic Pumpkin oven- baked treats and I was immediately hooked. I haven't tried a tastier dog treat since salivating over our Blueberry Spelt cookies.
These biscuits are 100% USDA Organic with no artificial flavors, colors or sweeteners, and are made with 100% human-grade ingredients. One taste and you'll agree- it's nice to be able to add another option to the list of treats you may want to keep for yourself instead of sharing with your dog!