Natura has issued a recall for their entire dry product line with expiration dates prior to June 10, 2014.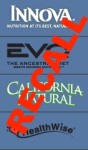 This includes all dry formulas of the following brands:
California Natural
Evo
Innova
Healthwise
Karma
Mother Nature's biscuits
Canned products are not affected by this recall.
Clients who have received deliveries of these dry products have been notified to discuss alternative options. Replacement Natura product is not expected to be available for at least 2-3 weeks.
This latest recall was issued as a result of a single sample of food testing positive for salmonella. As of this time, no reports of illness have been reported.
The company has recently updated testing procedures following a similar recall this spring. A single batch of food testing positive for salmonella by the FDA led to the current decision to recall all food recently produced.
The company's official notification to their customers can be found here.
The official recall notice can be found here.