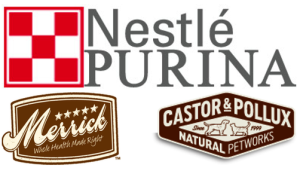 Merrick Pet Care, based in Amarillo, Texas, was recently purchased by Nestlé-Purina. Castor & Pollux, which Merrick had purchased in 2012, was also acquired by Nestlé Purina in this deal.
The private equity firm Swander Pace Capital acquired Merrick in 2010. They announced the sale to Nestlé Purina last week and the deal is expected to close "over the next few months."
The brands included in the sale are:
Merrick Classic
Merrick Grain Free
Merrick Backcountry
Merrick Limited Ingredient Diets
Merrick treats
Castor and Pollux Organix
Castor and Pollux Ultramix
Good Buddy Biscuits
Nestlé Purina has issued a brief statement announcing the purchase. They state that "Merrick will continue to operate as an independent business, with no planned changes to its management or operations."
Read the Nestlé Purina statement here.