Merrick Pet Care has announced that it has purchased Castor and Pollux, a natural pet food manufacturer based in Clackamas, Oregon.
Castor and Pollux is best known for it's Organix and Ultramix pet foods. Organix was the first food for dogs and cats to meet the USDA's National Organic Program requirements. There has been no word of any impending changes to the formulations. Manufcturing will be moving to the Merrick plant in Amarillo, Texas.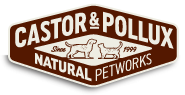 This is the most recent pet food industry consolidation since Procter and Gamble purchase Natura in 2010. The full text of the company's press release can be found here.