You may have noticed more and more pet foods displaying "Low Glycemic" seals in the past few years. This fancy footnote refers to the Glycemic Index (GI) rating of ingredients in the food.
Are they a fad or is there value behind this information?
The Glycemic Index assigns a number to foods based on how quickly it raises blood sugar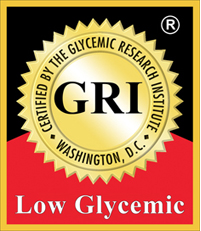 Foods containing carbohydrates are assigned a GI number. A food assigned a high number will break down, and raise blood sugar,  faster than a food assigned a low number.
Glucose, a simple sugar, is at the high extreme of 100.  Chickpeas are at the opposite end with a rating of 10. This means that ingesting glucose will cause blood sugar to rise much more quickly that eating chickpeas.
When blood sugar rises, the body produces insulin to keep levels from spiking. The more insulin produced, the more it taxes the body, which can lead to diabetes and other diseases. Weight gain is often the result as well.
It's important to remember that the Glycemic Index was prepared based on human metabolism
The ratings used on pet food are applied as if our dog's bodies react exactly the same as our own. While there are most likely similariites, we do not have a canine or feline Glycemic Index of foods based on testing. The best we can do is assume that our pets react in a similar manner.
This makes sense, and is borne out by the current pet obesity epidemic. The majority of dry pet foods contain processed ingredients that rank moderately high on the Glycemic Index. Most dry formulas contain rice, corn, wheat or grain fractions. All of these ingredients are in the middle or higher of the Glycemic Index.
Does this make a good case to feed a grain-free food? Not necessarily, and certainly not if the reason is to lower the Glycemic Index solely by feeding grain-free.
Many grain free formulas substitute one high GI ingredient for another
A grain-free formula still requires a source of carbohydrates. Potatoes are often used in these foods, instead of wheat flour, corn or rice.  Potatoes appear higher on the index than any of these supposed "unhealthy" grains.
The form of an ingredient and the process used to prepare it have a direct effect on the GI of a food. Usually, the more processed an ingredient is, the higher its Glycemic Index number will be. This is reflected in the different values for potatoes. Baking converts much more of a potato's starch to sugar, raising it's GI level.
Both carbs and grains are typically high in starch, which converts quickly to sugar. Most grains compare quite favorably to potatoes when using the Glycemic Index as a reference. Sweet potatoes are a definite improvement, with a GI of 70 vs a boiled white potato at 82, or baked potato at 111!
Foods with a low GI rating break down slower and make us feel full for a longer period of time
Assuming the same holds true for our pets, this can be quite useful for weight control. Rather than poring over the Fat or Protein levels of a food, choosing formulas which use low glycemic ingredients can be an effective weight control strategy.
Following this approach allows your dog to feel full without compromising any of the nutrients needed to maintain health.  If you're not fighting a battle with weight, it's not nearly as important to confine your choices to low glycemic formulations.
A few rules of thumb can be used when choosing low glycemic ingredient
It's not necessary to carry a lookup reference to avoid high glycemic foods. Some basic guidelines will help. One of the most important to remember is that the lack of fiber in processed ingredients will typically list them higher on the GI than whole foods.
Most fruits in their natural form, not processed, appear fairly low on the index (watermelon is the sole exception- not much fiber there!) Most veggies are also low, except for those high in starch like potatoes or parsnips. Meats don't factor into this discussion since they do not contain carbohydrates.
There's certainly a place for these formulas, but are they better?
Just like anything else, the answer depends on your situation. When your dog is healthy, weight appropriate and you're happy with the current diet, there's no compelling reason to change things up.
When you're looking to manage weight in an intelligent way without starving your pooch, these low GI formulations may be a simple, healthy option to try.
Keep in mind that this is the latest trend, and while useful in some cases, it comes with a price tag attached!
There is no "definitive" Glycemic index list.
Each published list reports results based on the specific samples and testing techniques used.
You can see how two of these searchable lists compare by clicking hither and yon.