A recent article in the Seattle Times details the results of tests done on chickens purchased in 10 local supermarkets.  80% of the chickens tested contained disease-causing bacteria at levels which would not pass new regulations going into effect this summer.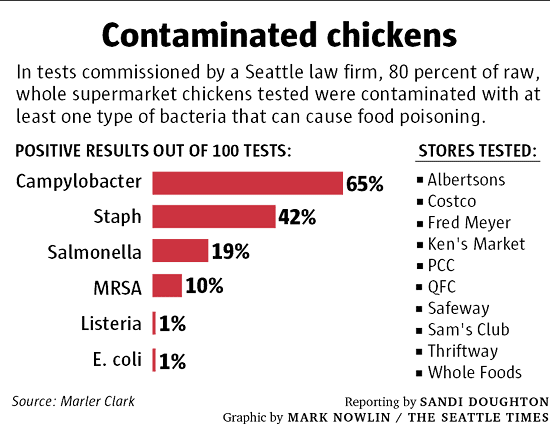 The tests were commissioned by Marler Clark, a Seattle law firm that has long been involved with food safety cases. The testing was done by IEH Laboratories, an independent lab in Lake Forest Park.
Slightly more than half of the samples, including some local and organic chicken, came from Washington State. Only 2 samples of organic chicken (out of 14) were free from bacteria. All other samples, regardless of origin, tested positive for pathogens. The pathogens detected include Salmonella (19%), Campylobacter (65%), Staph (42%) which includes 10 samples of MRSA, Listeria, and one sample of E. Coli normally found only in beef .
The chickens in this test passed under current USDA regulations. Under regulations scheduled to go into effect this summer,  they are almost 3 times higher than the allowable levels in the new standards.
Why is this significant? This is the same type of testing that led to new processing practices that raw pet food manufacturers have incorporated in their production. Then, as now, the argument was made that ALL meat will contain bacteria and other pathogens. Pets are much better equipped to handle these pathogens, although we still have to handle the meat during preparation. It seems levels in pet food may be considerably "cleaner" than the test results returned in this study.
Proper handling and preparation will help to ensure that pathogens contained in meat do not do harm. This is true in both pet food and what we pick up at the supermarket. Perhaps awareness of this issue will help reduce some concerns about feeding raw diets to pets. We sincerely hope so!
More details on the test results can be found here.