Retail Value: $39.75
A simple way to reduce the effort of disposing of your litter box waste!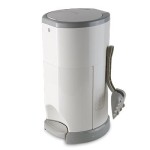 This versatile cat liter disposal system offers a simple and odor-free way to clean and store used litter before disposing of it. Simply scoop used litter, pop open the Litter Champ with the hands free foot pedal and drop waste into the bag.
Once the bag is full, simply remove it from the side, tie it off and a new one from the roll takes its place. Each bag should last 2-3 months.
Includes a roll of bags and  magnetic scoop that attaches to the side of the Litter Champ.