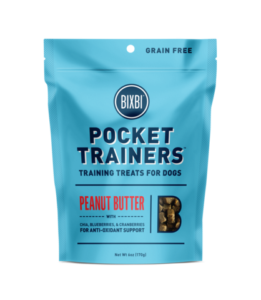 Bixbi Peanut Butter Pocket Trainers- save 21%
These chewy treats contain just 4 calories each, so they can be fed without guilt. Can be used with dogs of all sizes, as a special treat, in toys, or for training.
Made with Peanut Butter, Potato Starch, Dried Whey, Potato Flour, Vegetable Glycerin, Flaxseed, Lecithin, Chia Powder, Dried Blueberry, Dried Cranberry, Salt, Lactic Acid, Citric Acid, Turmeric, Rosemary, Mixed Tocopherols.
6 oz. package Regular Price: $8.25 Club Price: $6.50