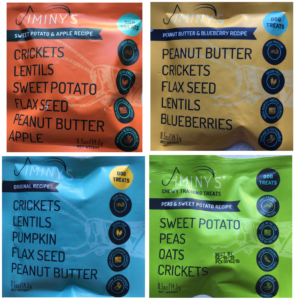 We're pleased to announce that 4 tasty varieties of Jiminys Cricket treats have hopped into the warehouse and are now available for your dog's approval.
Trial sizes of the Original, Sweet Potato & Apple, Peanut Butter & Blueberry and Sweet Potato & Peas formulas can now be added to orders. Each trial bag weighs 0.5 ounces and sells for $2.75
Jiminys treats are made with sustainable, high protein cricket powder which are raised using much less land, water and other resources than traditional proteinsourcess.
Crickets contain more protein than beef, are high in iron and low in fat.