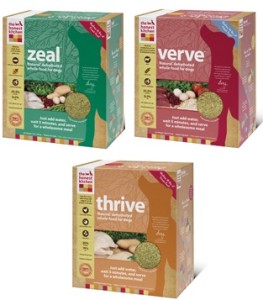 A limited recall was announced today by The Honest Kitchen. It affects specific lots of their Thrive, Verve and Zeal formulas only.
The recall was announced because one of the ingredient suppliers recalled a  batch of human-grade parsley that may contain Salmonella. The parsley was used only in the production of the five lots of Honest Kitchen products listed below.
You have already been contacted if any of these formulas have been delivered to you since August.
If you have purchased any of these formulas elsewhere, please check the lot number and expiration dates to see if they are part of the recall. If so, return them to the retailer where they were purchased for refund or replacement.
Product Name

Production Date

Expiration Date

Size

Lot Number

VERVE

8/20/12

8/20/13

4 lb. box,

10 lb. box

2332A

VERVE

11/1/12

11/1/13

10 lb. box

3062A

THRIVE

9/18/12

9/18/13

1 oz. sample

2622A

ZEAL

8/14/12

8/14/13

4 lb. box,

10 lb. box

2272A

ZEAL

9/21/12

9/21/13

10 lb. box

2652A
Lot codes are located on the top of product boxes either adjacent to or opposite the UPC.
As a result of this recall, Honest Kitchen has implemented the following additional safety steps:
All dehydrated leafy greens will be steamed, to further protect against the possibility of Salmonella and other pathogens
All leafy greens will receive a second test for pathogens after arrival at the Honest Kitchen manufacturing facility, in addition to the testing conducted internally by Honest Kitchen suppliers
Honest Kitchen is no longer purchasing any ingredients from this supplier.
You can view the company's recall announcement here.