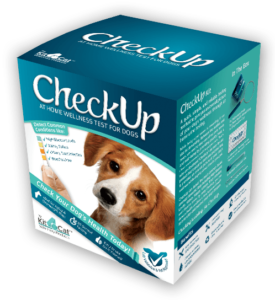 At a recent supplier Open House, two interesting items almost got missed. Nestled in the corner of a table with no literature were two last minute additions to the show.
But just because they didn't have a splashy display doesn't mean they did not make a big impact.
The CheckUp Home Wellness Tests come packaged in small, square boxes
You can choose a kit for either cats or dogs. Both low-cost wellness kits allow you to check your pet for diabetes, kidney function, urinary tract infection and blood in urine.
The CheckUp kits are very similar to kits used in some veterinary clinics, and are made by the same company.
Each kit tests glucose level (diabetes indicator), protein in urine (kidney function), urinary pH (urinary tract infection) and for blood in urine. The instructions are clear and simple to follow for each kit, and all supplies needed to perform and read results are included. No need to send swabs or samples out, although you can certainly use the sample you collect to pass along to your vet for further analysis.
The test procedure and kit contents are different for cats and dogs
The Dog CheckUp Kit contains a telescoping rod and urine collection cup, along with 2 test strips. Each test strip gives you the results of the 4 tests. This allows you to either repeat a test in the future, or compare 2 results taken a short interval apart.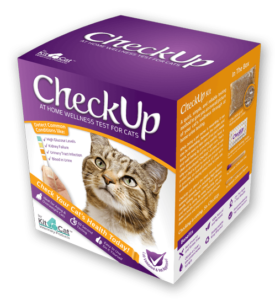 The Cat CheckUp kit does not expect you to collect your cat's specimen in the same way as a dog. The cat kit contains 2 pounds of a special litter that allows urine to pool on top without absorbing. You simply suck a sample from the top of the litter with the included pipette, and you're ready to test.
Both tests come with a sterile sample vial. Once you collect your sample, place it in the vial and use the included test strip. If you've ever tested water chemistry for a pool or spa using test strips, the process will be very familiar.
The most difficult part about using the kits is timing
According to the instructions, the test strip should be held in the sample vial for precisely 30 seconds before removing. You then compare the colors on the strip with the key provided for 3 of the 4 tests. For the last result (blood in urine) simply reinsert the strip for another 30 seconds and compare the results.
While this is certainly not a replacement for a vet visit or diagnosis, the kits are invaluable as an early warning or to offer some peace of mind if you suspect something is "off" with your pet. For less than $16, it is a simple and affordable insurance policy.