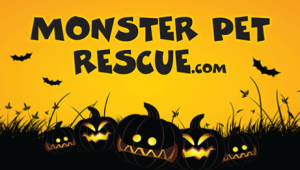 Did you know your pet's Halloween costume can scare up some money for your favorite local rescue? No tricks behind this offer, just a well- intentioned effort from the good folks at Fruitables Pet Food.
Fruitables has launched an online photo contest on Facebook to raise up to $10,000 for 3 pet rescue groups. Simply snap a photo of your pet in costume, upload it to MonsterPetRescue.com, and name your favorite group to enter the contest..
The 3 individuals whose entries get the most votes will have funds donated in their behalf to a qualified pet shelter or rescue group of their choosing. The contest ends on October 31, 2013, so don't delay!
There's no charge to participate, just a pet in costume, a "Like" on the Fruitables Facebook page, and a willingness to share. Already planning to dress your pet in costume for a weekend event or Halloween? Snap that picture and let your pet's picture add some money to your favorite rescue. Every little bit helps!
For those of you in our service area, let us know if you've shared a photo. We'll get a special treat to your pet on your next delivery- a free sample pack of Fruitables Grilled Bison Skinny Mini biscuits!
Full contest rules can be found at MonsterPetRescue.com