The next time you're wondering how to best control your cat's hairballs, keep in mind the following: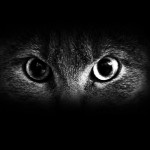 "Shedding, and the hairballs that result, is related to temperature and hours of daylight" according to Dr. Brent Mayabb, DVM.
Dr. Mayabb, manager of education and development at Royal Canin USA, was quoted last year in a recent article published in Pet Product News. He maintains that because indoor cats spend more time in warmer environments with long exposure to light, this can contribute to higher levels of shedding. Since indoor cats spend a considerable amount of time grooming, this leads to hairballs.
A quick research exercise turns up some confirmation of the relationship of light exposure to shedding. Controlling your cat's exposure to light is an interesting approach to hairball management.  I wonder if any studies have been done with nocturnal cats as a control group. Even if they were shown to shed less, it does not appear that this would be a well accepted approach to hairball control!
Would you accept the trade off of less hairballs if it meant you had to live in the dark?