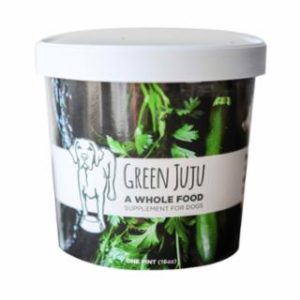 Last Spring we wrote about Green Juju, a locally produced certified organic superfood supplement made in Ballard.
The product and its founders were so impressive that we pitched in to help them fund their grand plans through their Community Sourced Capital campaign last summer.
The company has been steadily growing, and we're pleased to announce Green Juju is now available by special request.
All ingredients used in Green Juju are sourced from the certified organic Seattle Urban Farm Company in Woodinville. Green Juju can be fed as a supplement to raw, home-cooked or kibble meals.
Green Juju is made fresh in small batches, with no preservatives. It comes to you frozen and will last 5-7 days in the fridge once thawed.
To ensure you receive the freshest product possible, place your order one week in advance. Once you decide to use Green Juju regularly, a "standing order" can be set up to ensure you receive yours when needed without having to wait that extra week.
More information about Green Juju can be found on the manufacturer's website.