Last week we attended the Global Pet Expo in Orlando.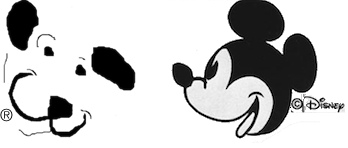 This year's show was billed as the largest ever, both for exhibitors and attendees. While we didn't get to see Mickey in person, there was no shortage of reminders everywhere we went!
Some new and notable items were a flexible bandage, a few new treats, a line of jute, leather and wool dog toys tested by rescue dogs, nighttime toys for cats, some new digestive aids and a supplement formulated to add to your own raw or cooked meat to simplify making your own home-prepared diets.
Honest Kitchen now has 4 oz trial sizes available, which can be used for traveling or as a canned substitute. We also saw a few interesting pet memorial products, including a paw impression keepsake, a customized indoor plaque and high quality outdoor engraved stone with a non-fading ceramic portrait. We're also keeping our ears open for the availability of the new Kong Squeezz line, hopefully arriving coming this Spring.
Surprisingly, there were few exciting new introductions exhibited on the floor, at least from our perspective. The expected "new and improved" foods from established and some new manufacturers did offer some changes, but none seemed to stand out from the better quality products already on the market.
While it was nice to see the "trend" of natural treats and food expanding into some of the larger manufacturers, it was also interesting to see what is now being presented as "natural" as the larger players jump on the bandwagon.
Limited ingredient food and treats seemed to be a hot item on the floor, with one product touting "only six ingredients" prominently on the label. Since the next aisle over had a goodie labelled "just 5 ingredients" the hunt was on for the inevitable 3, 2 and 1 ingredient treats. They were not difficult to find, and they are not all that different from what has been available for years.
We saw some familiar faces, and had an opportunity for a quick chat to catch up. And we were pleasantly surprised to run in to Andi Brown, founder of Halo and formulator of Spot's Stew for a quick hello!
The folks from Procter & Gamble updated plans for the Natura line which they recently purchased during a breakfast meeting. They once again assured everyone that there were to be no changes in formulation or manufacturing. Construction is currently underway at the Nebraska plant where Natura formulas are produced to allow for additional ingredient and manufacturing capacity.
Perhaps one of the most interesting encounters came not from the introduction of a new product at the Canidae booth, but from meeting Faith, the 2 legged dog, along with her caretaker, Jude. This unique canine was rescued as a pup, and was born with 2 legs. She learned to walk upright, and was spotted at the networking reception saying hello to a fellow furry attendee. You can see a crude glimpse just before this greeting at the end of this post.
One of the big differences between this show and the others we normally attend is that many of the products exhibited are not yet shipping. And some may never be released. We'll be keeping our eyes & ears open for updates. We're hoping that the ones that caught our eye will have generated enough interest to actually make it to market!