Donated by: Cat-Man-Doo
Retail Value: $57.00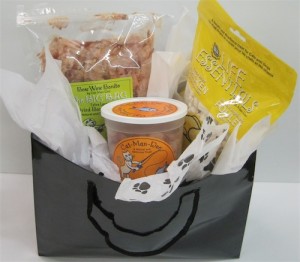 A generous and tasty assortment of Cat-Man-Doo bonito flakes and Life Essentials Freeze Dried Chicken treats.
Cat-Man-Doo Extra Large Dried Bonito Flakes  
Bonito is a bony fish that hails from the Tuna family.  Our Bonito flakes are among the highest quality flakes on the market and they are derived from a single protein source making them a healthy choice when rewarding your pet.
Cat-Man-Doo Bonito is high in protein and low in calories with a minimal fat content
It also contains Taurine which is an essential dietary requirement for feline health. Taurine protects your cat from serious eye maladies. The natural fish oils that are found in Bonito will keep your cat or dog's fur shiny and beautiful.
Life Essentials Freeze Dried Chicken by Cat-Man-Doo
This human grade, USDA approved white breast meat is carefully sliced into strips then freeze dried to perfection without the use of chemicals, additives or preservatives.