Your Special Offer |  News |  Features of the Month |  New Products |  Treat of the Month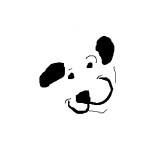 We hope your 2010 has gotten off to a happy start. We're looking forward to a great year ahead, and want to once again thank you for your continued support.
February is National Pet Dental Health Month! We've got two special offers to help you with your pet's dental health.
The first is yours free for the asking (see your special offer below). The other is one of this month's features- Organic Kelp.
In honor of National Pet Dental Health month, all eMuse subscribers can receive a FREE Terrabone along with their dog food order this month, just for the asking.
If you're ordering a 25 lb. or larger bag of dog food, ask for a FREE Large Terrabone with your order. If you're ordering a 24 lb. or smaller bag of dog food, ask for a FREE Small terrabone with your dog food order.
Need more than one Terrabone? You can request another 3 Terrabones at 25% off as part of your special offer this month. Large- $3.50; Small- $1.75

Terrific Trio program debuts
We're pleased to announce our latest program designed to save you money. Each month, we will put together a special grouping of products and offer them at a highly discounted price.
This month's Trio is double the usual amount (an introductory sextet!) and saves you 35% off regular prices. It includes Dogswell Lamb and Duck canned food, a bag of Salmon biscuits and a Bark Stick. Two treats and 4 cans of food- Trio price is just $14.50 instead of the regular $22.25- save over $8.00!
Courthouse dogs
Started by a Seattle law firm, this organization uses the calming effect of dogs to help minimize stress in the courtroom and creates a more humane and efficient system that enables judges, lawyers, and staff to accomplish their work in a more positive and constructive manner.
Exercising your brain helps feed a pet !
Since you save sooo much time with the Smiley Dog service, whey not use 10 seconds of that to send 10 pieces of kibble to a dog or cat in need. FreeKibble.com offers a daily trivia question on their website. Answer the question with a click, and you'll add to the daily donation of food . It's thats simple, and that quick!
The donations are sent to shelters in 13 states by sponsors Castor & Pollux and Canidae.
Washington Pet Food Tax Proposed Again
A pet food tax has been proposed in the State House and State Senate to raise funds to support non-profit organizations in their efforts to operate spay and neuter programs. The bill was introduced last year, but did not move out of committee. It remains to be seen whether it will move forward during this legislative session.
The proposal includes a 3 cents per pound tax on pet food at the distributor level. If approved, local distributors of pet food would determine whether they would pass along any or all of the tax to retailers. Retailers would then determine whether any portion of their increased costs would be passed along to pet owners in the form of higher pet food prices.
A Bit of Levity- Smile!
As we slowly dip our paws into the world of Facebook, we stumbled across something too good not to share. Have a look at the Smile Video. This site donates a substantial portion of all sales to worthwhile causes. You can also sign up to receive The Daily Smile sent to your email inbox. We did!
LifeLine Salmon Oil- save 30%


Did you miss this opportunity last month? Give your pet the benefits of healthier skin and coat, support the immune system and provide anti-oxidants with this essential fatty acid supplement. Made from wild Alaskan Salmon and packaged in a no-spill bottle. You'll see results in your pet's coat, eyes and energy in less than a month!
8 oz.- reg. $13.75, now just $9.75
Also available in a 32 oz. bonus bottle while supplies last- $29.75
Organic Kelp- save 15%
What better time than National Pet Dental Health month to add Organic Kelp to your pet's diet? This affordable supplement can be sprinkled over our cat or dog's food to help reduce the build up of plaque and tartar for healthy teeth and gums. It also helps with shedding, digestion and supports your pets immune system. 8 oz. – $12.50; 1.5 lb- $18.75
Traditional Kong Toys- 15% off
Is it time to replace your dog's Kong toy? Does your dog have a Kong toy? Now's a great time for that traditional favorite chew, toss, fetch and stuffing toy! Save on the traditional Red Small, Medium, Large, Xtra Large or King Kongs and the extreme Black Medium, Original (Large), or Ultra sizes.
Kitty's Crumble Litter- buy one get one FREE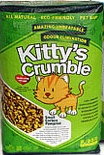 Try Kitty's Crumble, a new eco-friendly cat litter made from coir (coconut husk). While our limited supplies last, receive a FREE 4 lb. bag ($7.50 value) with the purchase of  a 14 lb. bag ($17.75). What's the catch? You have to report back to us how it compares to what you are currently using!
Kitty's Crumble, a new eco-friendly cat litter made from coir (coconut husk). Want to be a Smiley Dog tester? See the special offer above!
Want a Cookie Peanut Butter biscuits- save 30%
This 10 oz. package of Oven Baked, natural,  crunchy biscuits comes in a foil lined resealable bag to ensure freshness. Made with Barley Flour, Oat Flour, Peanut Butter, Blackstrap Molasses, Canola Oil (preserved naturally with mixed tocopherols and lecithin), Rolled Oat Flakes, Flax Seed, Baking Powder, Garlic Powder, Parsley Flakes and Rosemary Extract. Club price $5.50 (reg. $7.75)