Getting Started with Raw Pet Food Feeding:
What Form Do You Prefer?
Raw pet food is available in a variety of forms. You're no longer required to struggle with frozen blocks of food, waiting overnight to thaw or hammering away with a knife to hack off a daily portion. Depending on your needs and preferences, there's a form of food available that will make your routine as simple or as complicated as you choose.
There are three common forms of raw food:
Chunks– the smallest of the three forms and fastest to thaw
Patties– medium sized portions weighing from 1/4 pound to 1 pound
Blocks– these include chubs, tubs, and larger solid shapes, usually 1 pound or more
Each manufacturer offers one or more of these forms for their complete formulas.  Let's take a quick look at each to see which may suit your needs best.
Chunky foods are the simplest to use in some cases but can be more expensive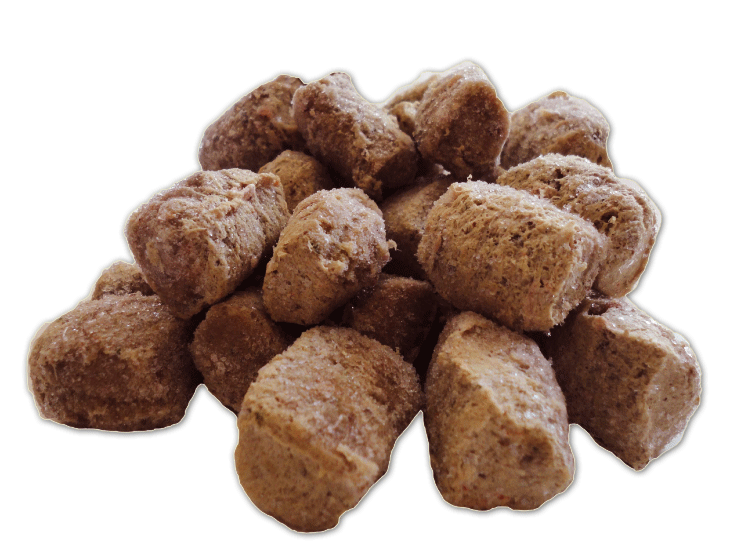 Chunky food can come in the form of kibble-sized bits, square or rectangular nuggets, and small rectangular or round pieces. Nuggets are a popular type of chunky raw foods, although nugget size varies between manufacturers.
While each manufacturer offers a different style of chunk, each piece within a bag is a relatively uniform size and weight. This makes for ideal portion control and thawing. Smaller pieces thaw more quickly, and you can portion by either counting pieces or by weight.
Some of the smallest raw food bits will thaw within 30 minutes in the fridge or just a few minutes in the sink (NOT recommended). The "standard" sized nuggets will thaw within a few hours in the fridge, and larger patties may need to thaw overnight.
For supplementation, starting with a nugget or other chunky form can be a good choice, despite a slightly higher cost. Chunks offer the simplest preparation and portion control. They also allow the easiest introduction to thawing, storing, feeding and cleanup of any other raw food form.
You can begin with a chunky form and easily move to a slightly more economical form whenever you choose.
The next form size is a patty or bar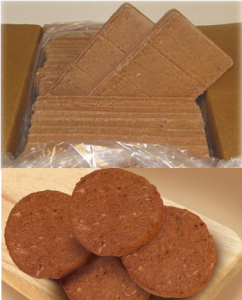 Patties are ideal for either supplementation or sole feeding. Like nuggets, each manufacturer's patties will be a standard size and weight. Most patties weigh in at 1/4 pound. This allows you to calculate your supplementation or meal size efficiently.
Although patties take longer to thaw, they can be kept in the fridge for 2- 3 days so you can stay ahead of your needs with a small amount of planning. The cost difference between patties/ bars, and chunks from the same manufacturer is small but can add up over time.
Pet parents feeding medium or larger breed dogs can benefit from these larger sizes. When your needs call for 1/4 pound or larger raw feeding, patties or bars may save you a small amount of time and money when compared to chunks.
When cost is an issue, be sure to compare both the weights and the pricing between these forms to give you a true comparison.
If you're after the most cost efficient form of raw food, you'll usually find it in blocks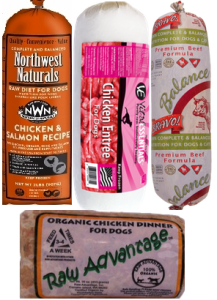 Chubs are the most common form of raw food in block form. Chubs, or those round blocks of food (think salami or cold cuts in the deli case before they're sliced) are packed in thin plastic casing and come in standardized weight. Depending on the manufacturer, most chubs will be either 2, 4 or 5 pounds.
Another block form of raw food is found packaged in plastic tubs weighing 8 ounces or more. Plastic tubs can offer a bit more convenience than chubs since they can be easily resealed simply by replacing their lid.
Blocks will take the longest amount of time to thaw when compared to other forms of raw food. Chubs can also be a bit messy to handle. You can chop partially thawed chubs into individual portions, or you can cut open one end and squeeze out what you need for each meal once it has been thawed. Either way, chubs require a bit more effort and planning than the chunky or patty forms of raw food.
Since there is less labor involved in chub production, they will normally be the least expensive form of raw food within a manufacturer's line. When a brand includes chubs and other forms of a particular formula, the food in each is usually identical. The only difference is the form.
The cost savings of chubs is relative to one brand and may not hold true when comparing between manufacturers. In other words, the chubs of Brand A will likely cost less than the nuggets or patties of Brand A. They may cost more, or less, than the nuggets or patties of Brand B.
Whichever form you choose, your feeding and cleanup routine will be similar
Each of these raw food forms requires thawing, care in handling and cleanup. They all require that you keep an eye on what you have thawed or are currently thawing. This will be determined by how much you choose to feed daily, so you can develop your own plan for rotating your food from freezer to fridge to bowl.
You can safely thaw and store 1-3 days worth of raw food in the refrigerator . Some brands maintain their foods stay fresh for up to 5 days, but you'll likely begin to notice a change in color, texture and smell once you hit 4 days. The food won't be spoiled, but it certainly will not be as optimal as food consumed within 3 days of thawing.
Your thaw and feeding routine will soon become second nature. There may be days when you realize you didn't thaw enough for the meal you're about to feed. When that happens, resist the urge to pop a portion in the microwave to thaw.
Don't microwave your frozen raw food 
Thawing your raw food in the microwave will destroy some benefits of the live enzymes contained in the food. Since some raw formulas contain ground bone, this could introduce another problem.
Although the bone in raw pet food is finely ground, there is the potential for some pieces to be larger than others. This is not an issue when these foods are consumed raw, but could present problems when cooked. Cooked bone is sharper and more brittle than raw bone.
Instead, put some of the frozen food in a bowl and set it aside. Place some hot, but not boiling, water in a separate bowl. Then just place the bowl with the frozen food into the bowl with hot water. This distributes the heat of the water first through the bowl and then to the frozen food. This approach keeps the food from cooking and will hasten defrosting.
If you're like many pet parents, you may be tempted to leave a portion of raw food out in the sink to thaw. Yes, you can do this as well. This runs the risk of forgetting about the food unless you set a timer. It also invites more bacteria to grow as it approaches room temperature. That won't be an issue if the food fed promptly and no one else is exposed to the raw meat.
You can also feed a small amount of frozen food in a pinch
Some dogs do just fine when scarfing down a small amount of frozen nuggets. I don't recommend this practice since it can be a shock to the system, particularly for older dogs. Think about dining on a meal of ice cubes and swallowing them without chewing. Do dogs get brain freeze?
Even a short defrost time can be a better alternative than feeding frozen. An exception to this comes with the very small frozen bits that are approximately the same size as kibble. These thaw so quickly that feeding a small amount of these in frozen form should not cause distress. But it is still not a recommended option. Since these thaw so quickly there's really no need to feed them frozen.
Chunks, patties or blocks- what's your choice?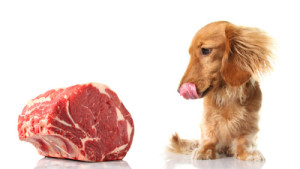 Now that you've chosen your form, there's a final decision to make before looking at different brands of food:
Will you feed one particular protein source or offer a variety of proteins?
Your pet will do fine with either decision you make. Once again, your choice will be determined by personal preference, convenience, and budget.
Read on to learn some of the benefits and drawbacks of each approach.