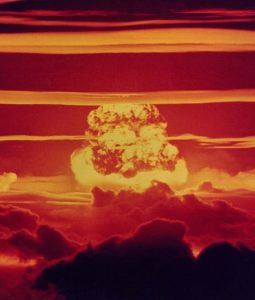 During the Cold War, the specter of mutually assured destruction (MAD) helped keep the Soviet Union and the United States from attacking each other with nuclear weapons. The strength of each country's nuclear arsenal prevented one from initiating a first strike which would result in the destruction of both.
While the threat of destruction kept those powerful weapons from being used, it did not stop their development. Nor did it stop the development and use of more varied, smarter and powerful "conventional" weapons.
But what may have been most effective in keeping the peace were not weapons of war at all. Healthy doses of understanding mixed with common sense through diplomacy kept more frightening measures from ever being employed.
The war against fleas can be approached in much the same way
Fortunately, here in the Pacific Northwest, our battle against fleas is not as heated as in other parts of the country. This gives us a bit more of an edge in heading off problems before they become large enough to consider the nuclear options available to us.
These days, the first line of defense usually is to reach for one of those nuclear options in the form of a spot-on topical flea treatment. What could be easier than squeezing some goo on the back of your pet and enjoying 30-60 days of flea-free bliss? But have you ever stopped to consider what you're putting on your pet and why it is so effective?
Spot-on topical flea treats can contain poisons
While poisons have their place, there are cautions that go along with their use. You'll find caution labels on every spot-on topical flea treatment sold today. The Food & Drug Administration (FDA) published consumer warnings about these products in 2004.  Spot-on topical product caution labels underwent significant changes in 2012 as a result of a 3-year Environmental Protection Agency (EPA) investigation into the safety of these products.
We've been conditioned to ignore most warning labels we see on products today (cigarettes, household cleaners, prescription drugs, vitamins, power tools, coffee cups, etc). Ignoring the warning label on spot-on flea products can, and have, led to documented deaths of pets.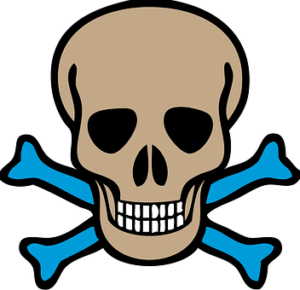 These deaths are what finally led to the FDA warnings and EPA investigation. The investigation resulted in new labeling directives for all spot-on products remaining on the market. The warnings better clarify the potential adverse effects associated with the use of the product.
The variety of topical flea products continues to grow
Spot-on products were initially available only through veterinarians. They are still sold through vets, as well as most pet shops and grocery stores. Each year sees the introduction of "new and improved" spot-on products.
Some topicals limit their killing action to adult fleas that make a home on your pet. This can be highly ineffective as you'll read below. Others include an IGR (insect growth regulator) that keeps an adult from reproducing once exposed to the chemical. Still others are also effective against flea eggs and larvae. Some also attack ticks. One takes a swiss army knife approach with an active ingredient to obliterate adult fleas, eggs, larvae, pupae, ticks, mites, roundworm, and heartworm.
One thing all chemical-based spot-on topical flea treatments share is their use of an insecticide. Different forms of some spot-on insecticides are also used in agriculture and the pest extermination industry. Some have been shown to contribute to colony collapse disorder among bees. Others have had some uses banned in the European Union because of toxicity to other species.
The fleas on your pet are often not the biggest problem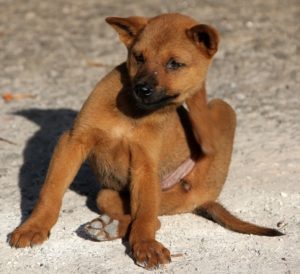 We all want to keep our pets comfortable and flea- free. It's essential to understand a bit about the life cycle of a flea to effectively help do just that. When you find fleas on your pet, you're likely seeing just the tip of the iceberg.
Adult fleas, which is what we see on your pet (or our legs!) spend just a small fraction of their time feeding on their host. The rest of the time is spent breeding and egg laying. These are far more important challenges to face.
Once an adult female flea has fed (i.e. bitten you or your pet) and mated, eggs can be laid. One flea can lay up to 3 dozen eggs/ day. These eggs fall off and get distributed as your pet moves. Eggs represent the largest flea population problem to address.
Once eggs are laid, they develop into larvae
About 75% of the eggs laid by a flea will develop into larvae. This helps us understand why it's more important to get at the eggs than any other stage of a flea's life, including adults. It takes larvae just under one month to develop into their next stage, pupae.
Fleas can remain in the pupae stage for a few days or more than a year, depending on conditions. Once the adult flea emerges from pupae, the cycle begins once again as the developing flea begins to look for a blood meal.
Once the cycle begins, it must be broken to eliminate your flea problem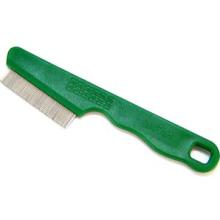 If we're lucky, when we spot a flea on our pet, it may be an isolated incident. That flea may have hitched a solitary ride inside within the last few hours. But it's far more likely to have been around for awhile, comfortably feeding and laying eggs which are now in and around your home.
Many spot-on treatments have limited or no effect on flea eggs. Those that do must come in contact with eggs to be effective. Spot-on poisons often do not come in contact with eggs since eggs can quickly fall off your pet.
Some popular alternatives which address the flea life cycle differently are ingestible insecticides. These control fleas by circulating insecticide within your pet's bloodstream. When a flea bites and takes its blood meal, the poison is ingested and the flea dies. While highly effective, consider the potential effects of voluntarily feeding your pet a toxic insecticide that becomes part of the bloodstream.
Fortunately, there are ways to address fleas without the use of toxic pesticides on or in your pet
Rather than reaching for the nuclear weapons at your disposal, you may already have taken the first step towards effective flea control without even knowing it. Feeding a healthy diet goes a long way towards making your pet less attractive to fleas.
While it may seem counter-intuitive, fleas are more attracted to weaker animals than healthier ones. A pet with a weaker immune system will offer less resistance to fleas taking up residence, allowing them more time to lay eggs.
The next step in flea control is remaining vigilant.  Be proactive and develop a daily routine with a flea comb. A few minutes at the end of each day running an inexpensive flea comb over your pet will immediately alert you to a potential problem before it gets out of hand.
A flea comb can identify a flea problem in two ways. The first is obvious if you find an adult flea caught in the comb's teeth. When that's your result, simply dip the comb in a cup of water containing a few drops of shampoo. It doesn't even have to be flea shampoo- just about any pet shampoo will do the job. But having flea shampoo at the ready is recommended in case you need to move to step 2.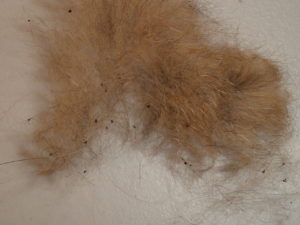 The other way a flea comb can identify a potential problem is by revealing the presence of "flea dirt." These dark brown specks are flea excrement, or flea 'poo, which is dried blood. To determine whether this is flea dirt or just typical everyday dirt, take a pinch in your finger. Put it on a piece of toilet paper or paper towel, put a drop of water on it. If it turns red as you spread it around, you've hit flea dirt.
To determine whether this is flea dirt or just typical everyday dirt, take a pinch in your finger. Put it on a piece of toilet paper or paper towel, put a drop of water on it. If it turns red as you spread it around, you've hit flea dirt.
Get aggressive with conventional weapons
If you're finding the occasional flea, along with flea dirt, you're ready for the next steps. Give your pet some relief, and head off an immediate problem with a comforting bath using a natural flea shampoo.
There are a number of natural flea shampoos available that use plant oils as active ingredients. These are quite effective, although they do not have the residual action that toxic chemicals offer.
To get that residual action, you can apply diatomaceous earth to your pet's coat once it dries. Be sure to use a product intended for use on animals. Some diatomaceous earth is more coarsely ground and can cause respiratory irritation if applied on pets. Herbal flea sprays can also provide some residual action.
You can also use diatomaceous earth or a boric acid powder product in your home. Sprinkle the powder on carpets, upholstered furniture, and around baseboards. This will be highly effective in dehydrating any eggs or larvae and breaking the life cycle before it can renew.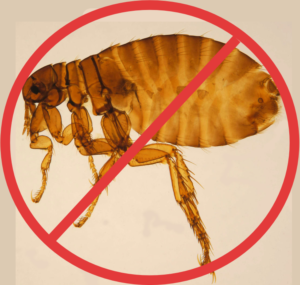 If you feel it necessary, diatomaceous earth can also be applied in your yard to head off the problem before it establishes itself inside.
Understanding how to manage fleas is not difficult
Spot-on topical pesticides and ingestible insecticides are remarkably effective, easy to use, widely available, and a huge profit center for many pet businesses. But they also raise serious safety questions.
Used properly while carefully following directions and warnings, the dangers associated with these active ingredients may be minimized. But why take the chance when a far more benign approach can be just as effective and far less risky?
You have the choice between fighting conventionally or asking your pet to wear, breathe or ingest poison. Why go nuclear before considering a more benign alternative?
Read the warnings the FDA issued about topical spot-on flea treatments in 2004 here.
Want to learn more about the life cycle and battle against fleas?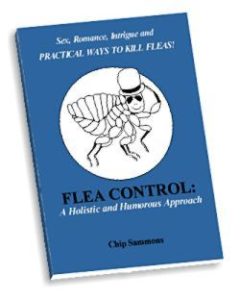 Pick up a copy of the excellent, quick reading Flea Control: A Holistic and Healthy Approach by Chip Sammons.