The Food and Drug Administration (FDA) has launched a nationwide sampling program to collect and test pet food samples for the presence of Salmonella.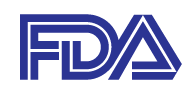 The nationwide program, which will continue though September 2012, will collect and analyze a variety of dry and raw pet foods, treats, and supplements produced in the United States. It will not include canned products, or imported products at this time.
The samples will be collected from a variety of sources, including manufacturers, distributors, wholesalers, and retailers. Some major chain stores which also act as distributors, such as PetSmart, PetCo, WalMart, Costco, Sam's Club, and Target may be sampled.
All samples will be tested by the FDA's laboratories for Salmonella.
There have been numerous cases of Salmonella in pet food and treats over the past decade. Salmonella-contaminated pet foods, pet treats and supplements for pets can pose a health risk to humans when proper handling procedures are not followed. The goal of this program is to identify and remove that risk by keeping contaminated products "out of interstate commerce".
We'll be watching the results of this program carefully. Removing contaminated pet products from the market is certainly a worthy goal. Most pet owners can be lax about sanitation and handling procedures when dealing with kibble, treats and supplements.
We are concerned about what this may mean for raw diets. By definition, raw diets can contain salmonella and other bacteria, as does raw meat in the grocery store for human consumption. To use the same contamination standards for raw and processed pet foods is as unrealistic as using the same standards for chicken soup and raw whole chicken in the supermarket.
Processed pet foods, like processed cereal or lunch meats, should have zero tolerance for salmonella contamination. There is an expectation of safety, although caution is always advised when handling any meat-based food product.
Raw meat, regardless of origin or intended use, is quite different from processed products. No one who handles raw meats, whether intended for pets or human families, should cut corners with handling, storage and cleanup. If the current FDA project applies the same standards to raw diets as human meats, that could mean improving or standardizing warning labels. That would be quite helpful and welcome.
If the program applies the same standards to raw diets as kibble or supplements, that does not bode well for the availability of these excellent products.