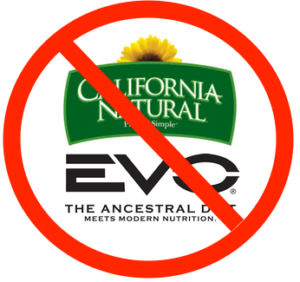 It's the end of the line for Natura pet products.
In a very under-reported development, Mars Petcare has decided to discontinue the Natura lines of Evo and California Natural pet foods.  The news follows last year's announcement of the discontinuation of a selection of California Natural and Evo formulas, along with the entire line of Innova foods.
Changes to the Natura line began with the 2010 when Procter & Gamble purchased the company. At that time, Natura had established itself with a growing line of high-quality and well-respected dog and cat foods.
In 2014, Procter and Gamble sold the Natura brand, along with its other pet food businesses, to Mars, Inc. One year later, more changes were seen with reformulations and targeted product discontinuations.
If you are currently feeding and California Natural or Evo formulas, we encourage you to stock up while the food is still available. This will give you some time to begin the search for an alternative once the current supply is exhausted.
For those in our service area, feel free to contact us for some guidance on available options for any discontinued California Natural or Evo products.