When is a recall not a recall? When it is issued as a "voluntary withdrawal".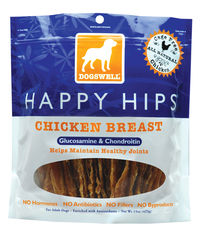 Dogswell has voluntarily withdrawn from sale all chicken breast and duck breast treats with "Best By" dates earlier  than January 28, 2015.
The withdrawal was prompted when routine testing by the New York state Department of Agriculture showed trace amounts of an antibiotic residue on Happy Hips Chicken Breasts treats.
The residue found was from sulfaclozine, an antibiotic approved for use in the European Union and other countries, but not in the United States. A complete list of the withdrawn products can be found at the end of this post.
Dogswell is inviting customers who have affected product to contact them to arrange for refunds. You may also be able to arrange refund or exchanges from the original place of purchase. If you have received any of these products from us within the past 4 months, you have already been contacted.
Should you be concerned?
A recall or product withdrawal should always be taken seriously. If you are feeding these treats, it is advisable to discontinue their use and request a refund.
Dogswell has been manufacturing their treats in China for quite some time. They have had small recalls in the past, which have led to improved testing procedures and new sources of ingredients. We have been told that the company maintains a presence at the manufacturing plant in China to oversee quality control.
Chicken jerky treats have been the subject of repeated recalls for the past few years. Most of the recalled products have been imported from China. Some have been contaminated with salmonella. Others have been associated with report of sick pets, but continued testing has yet to identify a reason for reported problems.
Uncertainty does not inspire confidence
Given the uncertain history of imported jerky teats from China, Smiley Dog will be replacing these with goodies made in the United States or Canada. While this does not ensure a safer product, it may reduce the risk of a future product withdrawal or recall for these types of products.
The company's original message to consumers can be found here.
Dogswell's affected products for this withdrawal include all sizes of the following Dogswell and Catswell Chicken or Duck treats with a Best By date earlier than January 28, 2015:
Happy Hips Chicken Breast
Happy Hips Duck Breast
Happy Hips Veggie Life Chicken & Apple
Happy Hips Veggie Life Chicken & Banana
Happy Hips Veggie Life Chicken & Sweet Potato
Breathies Chicken Breast
Breathies Chicken Breast Minis
Breathies Duck Breast
Happy Heart Chicken Breast
Mellow Mut Chicken Breast
Shape Up Chicken Breast
Vitality Chicken Breast
Vitality Duck Breast
Vitality Veggie Life Chicken & Apple
Vitality Veggie Life Chicken & Banana
Vitality Veggie Life Chicken & Sweet Potato
Catswell Happy Hips Chicken Breast
Catswell Vitakitty Chicken Breast
Catswell Breathies Chicken Breast