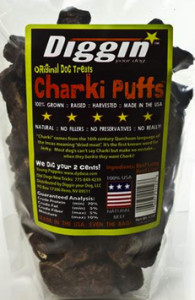 It's rare to get a chuckle from both the contents in and on a bag of treats. We think you and your dog will agree that Diggin Your Dog treats do just that.
Made from a limited and simple ingredient list, DYD's packaging makes it clear where they stand with their products… no fillers, no preservatives, no really!
This line of treats comes from a small company based in Reno, NV which began in 2009. Their treats are made with ingredients 100% raised, harvested, made and packaged in the US. Not content to offer their own version of existing treats, DYD has dreamed up some new delights.
In February, you'll have the opportunity to try their Charki Puffs, a beef liver soaked beef lung offering which is high in protein and low in fat. Next month will bring one of their other tasty treats to the Treat of the Month Club.
Wondering what's behind the unusual name of "Charki"? It comes from the 16th century Inca language of Quechuan. It was their word for "jerky".
Other manufacturers use jerky. Diggin Your Dog wants to share Charki with you and your canine companion!