We're pleased to announce that DERMagic Skin Care products are now available through Smiley Dog!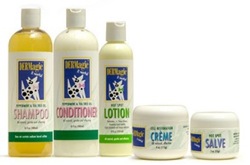 Some of you may have visited with Dr. Adelia Ritchie, the founder and formulator of this innovative and natural line of effective products, at Woofstock 2009. Some of the DERMagic products were available at the event.
We are now stocking some of the most popular products in the DERMAgic line, including Skin Rescue Lotion, Hot Spot Salve, Organic Tea Tree/ Peppermint Shampoo and Shampoo bars. The remainder of the line is available by special order.
DERMagic Skin Rescue Lotion is is an all-natural topical lotion which provides fast relief for hot spots, flea bites, dry skin and other skin irritations. It is easily applied and absorbs quickly. It is available in 4 oz. ($14.75) or 8 oz. ($24.75) sizes.
DERMagic Hot Spot Salve is a concentrated alternative to the Skin Rescue lotion. It is ideal for small, localized applications. 2 oz. ($14.50)
DERMagic Cell Restoration creme speeds healing of skin irritations after the underlying cause has been addressed by lotion or salve. It is made with organic aloe vera gel and is a favorite for groomers on their own hands! 4 oz. ($18.75)
DERMagic Organic Peppermint/ Tea Tree Oil shampoo is specially formulated to soothe and condition skin, and stimulate the healing process. It is made without sulfates, and can be substituted for expensive prescription allergy shampoos in many cases. Available in 8 oz. ($9.75) and 16 oz. ($16.75) sizes.
DERMagic Peppermint/ Tea Tree Oil Shampoo bar is the most ecological, economical and effective way to clean your pet with a skin condition. These certified organic bars lather and rinse easily, and are so simple to use as an alternative to liquid shampoo. Give it a try- you'll be pleasantly surprised! 3.5 oz. ($8.75)