It's happened to almost all of us. A favorite food, toy or treat either disappears from the market or gets "improved."
The search begins for an appropriate replacement. Sadly, the new options fall short of meeting all the good points of the now fondly remembered lost favorite.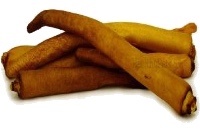 Finding the perfect replacement treat can be a chore
So it was with Ginger, who had been eating Merrick's Texas Toothpicks for years. These delicacies, dried beef tails, were an ideal treat for Ginger. Her "requirements' seemed simple- relatively low fat, crunchy, longer lasting than a cookie, and most importantly, acceptably soft.
Now, most of us wouldn't necessarily see this as too much of a problem. After all, most dogs will happily snarf down just about any treat in sight without a second thought. But not Ginger. She has a "soft mouth" and prefers a softer treat. But for some reason, soft & chewy is just not as enjoyable as soft and crunchy. What to do?
Crunchy yet soft is a bit of a challenge
Ginger had enjoyed pig ears and sow ears for a while, but they were unacceptably high in fat. The non-smoked varieties and cow ears didn't tickle the taste buds in the same way, so she cycled through a variety of other goodies. These included Sweet Potato Chews, Pear Chips, Lamb Lungs, Beef Chews, Yakky Puffs and Beef Steak Patties. Some of these were eagerly accepted, but went down like potato chips. Ginger needed a slightly longer lasting experience.
Harder chews like Water Buffalo Horn, Elk Antler, Himalayan Dog Chews, and Moo Taffy mostly got licked, but not consumed.  Greenies and a few other softer dental chews were borderline hard for her mouth. Although she was willing to make the sacrifice, they just didn't have that satisfying crunch of the Toothpicks.
The perfect replacement appeared to be Barkworthies Cow Tails
These seemed to be a similar product when compared to the beloved Toothpicks since both are, in fact, cow tails. But for some reason, the Barkworthy Cow Tails has a harder inner core- quite attractive for most dogs, but not for Ginger. And so the search continued.
Next up were Wheezer Sticks from Jones Natural Pet Chews. These appeared to be appropriately soft, but also lacked that elusive crunch. The same held for Red Barn Barky Barks. We thought a winner was found with Etta Says Rabbit Chews and Texas Taffy, but watching large pieces being chewed off was too unsettling.
While searching for the perfect replacement there was no lack of treats
Even though a nightly favorite had not yet appeared, you can see that Ginger was certainly not going treatless. In addition to the experimentation with the previous treats, she also enjoyed Go Bare Crisps and Crunchers as part of the search. Either of these would have been ideal had they been larger than bite-sized pieces. Close, but no Toothpick. Yet.
Some may say that Ginger should be grateful for just about any treat tossed her way. This may be true, but that approach would have eliminated a time-honored established nightly routine.

First comes the anticipatory stare, then a dash to take up a laser-focused position at the treat drawer. Some appreciative tail thrashing is finally followed by the dance of joy and happy trot into the living room before settling down for a satisfying crunch session to end the day. How could that be denied?
And so the search continued, until a solution was found in an alternate universe
Having cycled through most of the available land animals and some vegetables as well, an almost ideal replacement was finally found under the sea.
Polka Dog Bakery Cod Skins passed almost every test put to it. These single ingredient, crunchy treats are easy to chew, low in fat and have more volume than some of the smaller options. An added bonus is that they are relatively inexpensive. And they are available individually in bulk or 4.7 oz packages.
While they don't last terribly long, they are almost comparable to the now discontinued Texas Toothpick. And because they are low in fat, you don't have to feel too guilty wanting to double up some nights.
These are natural, dried, cod skins and nothing else, so the size varies from treat to treat. They average in length between 10-13 inches and have a very satisfying crunch.
Along with wishing they lasted a bit longer, the other minor issue for some dogs can be… crumbs. Not crumbs exactly, but very small scale-like remnants of skin that get left behind after a satisfying crunch session.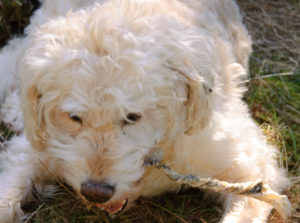 Some dogs may spend time licking the carpet to ensure nothing is left behind. Others, like Ginger, may sniff around and recover some, but not all of these flakes. Feeding on a hard surface or a quick vacuum session will easily take care of this issue. And of course, they can always be fed outside where other critters can do the clean up work for you.
Finding the (almost) perfect replacement took some doing
Although Ginger tried and rejected a full complement of treats, there are still more than enough "untested" goodies to continue the experiment. Polka Dog Bakery also makes a Haddock Skin treat- perhaps Ginger will get to render judgement upon those in the coming weeks.
In the meantime, if you've found an acceptably good crunchy yet soft chew treat, let us know. Ginger will be more than happy to trade a cod skin for something new and exciting!