Your Special Offer | News | Features of the Month | New Products | Treat of the Month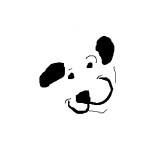 One of our new toys sums it up perfectly. . . oh, no! September already. Which means the end of summer approaches, even if we're in denial about it. We hope you are enjoying the summer and that we get at least one more extended sunshine run before . . . well, you know.
This month we will bid a fond farewell to Jim, our driver and warehouse manager for the past 4 years. Jim is leaving for a sunnier climate and to enjoy a well deserved retirement. We wish him well, and welcome a new face to our ranks. Read on to learn a bit about Mick.
Later this month, we will be attending SuperZoo, an annual Trade Show. Now that we have a presence on Twitter and Facebook, perhaps you'll find some on-the-spot updates during the show. Maybe even pictures of new and "secret" toys that will soon be gracing our shelves (and possibly your pet's jaws). Connect with us on Facebook or follow us on Twitter and see what turns up from the show. SuperZoo runs from 9/14-16.
Your Special Offer
We've put aside a small variety of delicious canned foods which we'd like to share with you as a Thank You for being an eMuse subscriber. If you'd like a free can or two, just let us know when you place your order this month. If you a have a friend you'd like to share with, let us know and we'll include an extra can for them as well!
Meet Mick!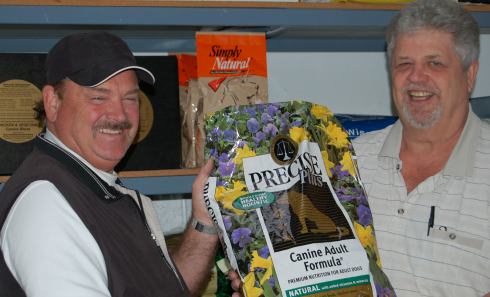 Join us in rolling out a big welcome to Mick (left) as the newest member of the Smiley Dog team! Mick will be taking over from Jim (right) as our warehouse manager and driver.
Mick joins Smiley Dog having spent more than 25 years in the service industry. Mick grew up in Ballard and Shoreline, and now resides with his family in Edmonds. His 4 legged family members include 2 cats along with a Shepherd/ Collie mix. We hope you'll join us in welcoming Mick and watch for his friendly smile as he carries on the Smiley Dog tradition.
Recalls
You may have noticed the "recall activity" of the past month. And we don't mean eggs- although we're waiting to see what kind, if any, ripple effects that may have.
Iams recalled their entire dry Veterinary line of formulas, and Merrick once again recalled their Beef Fillet Squares. You can read more about the Iams recall here and the Merrick recall here.
Dog Park Videos
If you've connected with us on Facebook, you've seen some of the local dog park videos that have been posted. There are more to come, and who knows? Perhaps you'll be featured one day! If you're not a Facebook fan, you can also catch the videos on YouTube.
Does this sound like you?
According to a survey conducted by Kelton Research, 49 percent of dog owners believe they know exactly what their pet is thinking, and 34 percent say they have had an entire "conversation" with their pet. Nearly two-thirds said their dogs are more dependable than their human best friends. And almost 75% said they prefer to blow off steam by talking a walk with their dog instead of a close human companion. Thanks to Pet Product News for this not so surprising information!
Don't Miss DogFest!
Come celebrate Shoreline's off leash areas at Shoreview Dogfest, Sept. 18 from 11am- 3pm. There will be romping partners for all dogs, free hot dogs, grooming, training, portraits and more.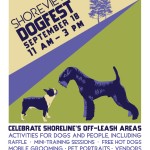 The event will be held at , Shoreview off Leash Park, located at 320 NW Innis Arden Way, just west of Shoreline Community College.. Directions or more info can be found at at the ShoreDog website.
Features of the Month
Kitty's Crumble Litter- buy a bag, get a bag FREE!

We introduced this litter at Woofstock last year, and have a a free bag to offer the first 3 purchasers. Buy a 14 lb. bag, get a 4 lb bag FREE! This natural litter is made from coconut fiber (coir). It is lightweight, absorbent, and can be used in your garden or as compost once any solid waste has been removed. $17.75.
Give your dog a knuckle sandwich. . .
Not that kind, the good kind! Get two raw buffalo knuckle bones for the price of one this month. These large, frozen bones will delight your pooch. Grab them in time for you dog to enjoy outside before the rains begin! $7.50
Got chickens?
Need cracked corn? Save 25% on 50 lb. bags of Cracked Corn this month. While supplies last,  just $13.00
SnackFish Salmon Treat- save 20%

These dry fish treats come in a 3.4 oz resealable package and are high in protein, low in fat. Great for dogs or cats!  Reg. $5.00, now $4.00
New Products
We've got a few new dog toys heading to us this month to share with you. They're called Retro. Do you remember these? Are we really THAT old?! Here's a shameless blast of nostalgia for some.
He's got his own homepage, and now he's immortalized in a dog toy. A 10 inch, plush toy, with a verrrry special squeak. As soon as he arrives in the warehouse, we'll update our site with a squeak sample. Oooooh Nooooooo! $8.75

Chances are you remember this little green guy, who's not so little at 9 inches high. And of course, it wouldn't be right to have a Gumby toy without his faithful sidekick, Pokey. Pokey measures in at 6 inches. Both are made of durable rubber. $8.50

And finally, who can resist a cuddly recreation of Lambchop. This 11 inch  tribute to Shari Lewis is both cuddly and squeaky.
Treat of the Month
It's a Treat Combo again for the month of September! Save 27%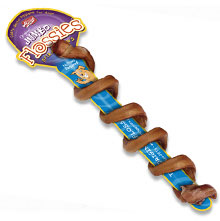 One Jumbo Flossy and 2 Chew Strips for a tasty trio o' treats!
Regular Price: $8.25  Club Price $6.00