I first became aware of coconut as a kid when Dad let me taste one of his precious Mounds bars. When I finally got to experience the exhilarating flavor of fresh coconut many years later, I had no idea it was destined to become a controversial "health food."
Coconut is a staple in diets of many cultures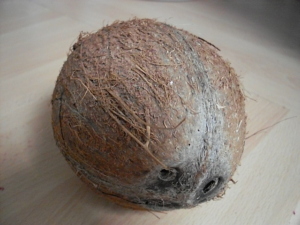 Coconut is a versatile fruit which lends itself to many uses other than food. Let's take a look at some of the health benefits of coconut meat and oil that are now becoming of interest to pet parents.
Coconut meat is the familiar firm, white, fleshy portion of the fruit. It is high in fiber, low in carbohydrates and loaded with saturated fat. The nutritional value of coconut comes primarily from coconut oil, which is derived from the meat.
Coconut oil is produced in a variety of ways
The traditional way of producing coconut oil is a slow, labor-intensive process. Coconuts are cracked open, the water is drained, and the meat is separated from the shell and then ground. The ground flesh is then air dried without heat and pressed to extract the oil.
Fresh coconuts using this method produce Virgin Coconut Oil. Virgin Coconut Oil production uses no additional heat or refining steps. It produces a raw, stable oil with a fresh coconut taste and aroma.
A more common and less time consuming production method dries the coconut flesh with heat or chemicals before extracting the oil. Dried coconut meat is also known as copra.
Using copra to produce coconut oil requires a heat source or solvents, which can compromise the quality of the oil and introduce impurities. Coconut oil produced this way often uses copra which is weeks or months old. To address rancid or moldy copra, the oil is then processed further. This method results in RDB (refined, bleached, deodorized) coconut oil, which has little taste or aroma.
The age, source and processing time of the coconuts have a significant effect on the quality of the oil produced by either method.
Coconut oil will appear solid at room temperature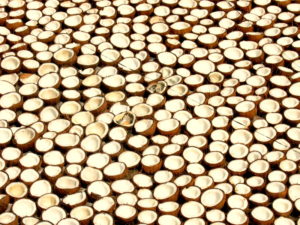 Both Virgin and RBD Coconut oil are solid at room temperature and have a low melting point of about 75° F. It will melt in your mouth and in your hand. Virgin Coconut Oil will appear much clearer than RBD Oil when melted. Both will return to solid form when cooled.
The easiest way to gauge the quality of coconut oil is by reading the label. Look for Virgin Coconut Oil, made with a centrifuge, cold-pressed, or expeller-pressed process. This will ensure you are getting a raw, natural oil without additives. Organic forms of these oils are also available.
Some coconut oils are labeled as Extra Virgin. There is no true distinction between Virgin and Extra Virgin other than marketing magic. Both are top of the line products and offer similar benefits.
How can coconut oil help our dogs?
Depending on your source, coconut oil can be either a cure-all or a quack. Like many health claims, we believe the truth lies somewhere in between.
One undeniable benefit of coconut oil is its bountiful lauric acid content. Lauric acid has strong anti-inflammatory, anti-fungal, anti-viral, and anti-bacterial properties.  It reportedly can help balance thyroid function, decrease insulin resistance, slow cognitive dysfunction and help with weight loss.
Good quality coconut oil contains close to 50% lauric acid, among the highest concentration found in any natural substance. Lauric acid is also found in human breast milk (8%) and goat's milk (3%).
Lauric acid is a medium chain fatty acid (MCFA), a type of saturated fat.
How can a saturated fat be healthy for our dogs?
The saturated fats in coconut oil can boost cholesterol count. Most of this boost comes from an increase in HDL, also known as the "good cholesterol."
The saturated fats we're most familiar with are long chain fatty acids. These saturated fats are slow to be digested and are stored in the body as fat. They can also contain or produce unhealthy trans fats when heated.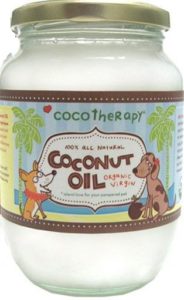 The medium chain fatty acids found in coconut oil, including lauric acid, are easily absorbed and digested. They help metabolize fat-soluble vitamins and are not stored in the body as fat. MCFAs do not contain trans fats.
Should you run out and begin feeding coconut oil to your dog?
Many dogs should benefit from the addition of coconut oil in their diet. As with any food, some dogs may be allergic and a gradual introduction is recommended.
If you choose to introduce coconut oil to your dog's meals, begin with a small amount. Monitor the response to ensure it is being accepted well, since too much can encourage diarrhea. The accepted guideline for small dogs is one teaspoon per day. For larger dogs, one tablespoon per day is recommended.
Adding coconut oil a few times each week can be effective. Using a smaller amount each day is another approach favored by some. Just be certain to choose either an Organic Virgin Coconut Oil or Virgin Coconut Oil to ensure you're getting a healthy, raw, unadulterated product.
The FDA does not recognize coconut oil as healthy
There are plenty of documented and anecdotal cases of coconut oil having a beneficial effect on both humans and dogs. Unfortunately, the current FDA definition of "healthy" does not allow the term to be used with coconut oil.
Food can only be marketed as "healthy" if it meets certain levels of five criteria spelled out by current FDA regulations: Fat, Saturated Fat, Sodium, Cholesterol and beneficial nutrients, such as vitamin C or Calcium. Because of its high saturated fat content, coconut oil cannot be considered "healthy."
Using the current FDA criteria, Pop Tarts, Sugar Frosted Flakes and Spaghetti-Os are healthy, while avocados, nuts and salmon are not. The FDA is currently re-evaluating it's definition to better reflect the changing reality of nutrition as we know it.
Coconut is an intriguing and controversial supplement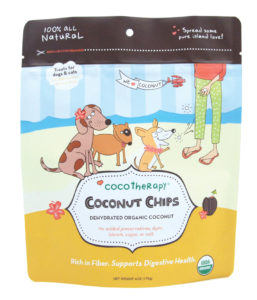 We're seeing more types of coconut oil and treats incorporating coconut introduced each month. If you're after the fastest benefits of coconut oil, choose a high-quality oil and introduce it gradually.
If you're intrigued but still on the fence about the benefits of coconut oil, there are other options available. Look for a treat or supplement that includes coconut in its ingredient list. It may be more difficult to gauge the quality of the coconut used as an ingredient unless you know its source.
The benefits of coconut as an ingredient are reduced when compared to those found in coconut oil. This is understandable, since the concentration of lauric acid is far greater in coconut oil than coconut flesh. In either case, the quality of the coconut will have a direct bearing on the results you see.
I'm looking forward to beginning some "human testing" with coconut oil shortly. If you've been using it yourself or with your own dog, feel free to share your experience below!