There is no shortage of worthy causes to support in the Seattle area. We're fortunate to have a multitude of pet rescues, shelters, assistance and placement services as well as volunteer clinics.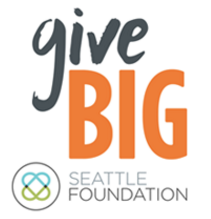 All of these admirable organizations rely on fund-raisers and donations from generous residents in the areas they serve.
It may not be possible to support every deserving cause, but perhaps one (or more) will stand out for you. If so, we encourage you to use this opportunity to leverage your donation.
Now is an ideal time to choose your cause
On May 3, the Seattle Foundation will hold the 6th Annual GiveBIG Campaign. The beauty of the campaign is that donations to causes of all types can earn bonuses. This makes your donation, large or small, go further without you having to dig deeper in your own pocket.
Take a moment to visit the GiveBIG website to see if your favorite cause is represented. Just type a name in the search box at the top right of campaign page, or browse through the Elements category lists.
Participating organizations range from the Arts & Basic Needs to the Environment & Wellness. Donations can be as small as $10, or as large as you choose.
While the official GiveBIG campaign day is May 3, there's no need to wait. You can donate today and your contribution will be tallied with the rest by the end of May 3.
One unique participant this year is a refundable public radio drive
You may have heard that KPLU is attempting to raise a chunk of change by June 30 to become self-supporting. This station holds a special place for Smiley Dog- it's usually the station playing in the morning, at the warehouse and often on the road.
This station holds a special place for Smiley Dog- it's usually the station playing in the morning, at the warehouse and often on the road. And John Kessler hosts a killer Blues program every weekend!
The effort to save KPLU has passed the halfway point, and time is running out. If you choose to support KPLU through the GiveBIG platform, you'll get your money back if they don't meet their goal.
A partial list of the animal- related organizations participating this year include:
Alley Cat Project
Auburn Valley Humane Society
BaaHaus Animal Rescue Group
Feral Cat Project
Friends of the Animals Foundation
Furry Faces Foundation
Guide Dogs for the Blind
Harbor Hope Cat Rescue
Homeward Pet Adoption Center
Humane Society of Seattle/ King County
MEOW
Motley Zoo Animal Rescue
MustLuvBoxers Rescue
Northwest Animal Rights Network
Old Dog Haven
PAWS
PAWS of Bainbridge Island and North Kitsap
Pawsitive Alliance
Project Canine
Purrfect Pals
Red Waggin Rescue
Save a Forgotten Equine
Seattle Animal Shelter
Seattle Area Feline Rescue
South County Cats
Vashon Island Pet Protectors
Whisker City
If your favorite pet-related organization is participating but does not appear on this list, please let us know!
Even if you're not in a position to donate, you can still help
Spread the word among your friends at work, play, and social media. Let's make the most of this opportunity to support the wealth of good work that's being done in our community and reach the GiveBIG goal!