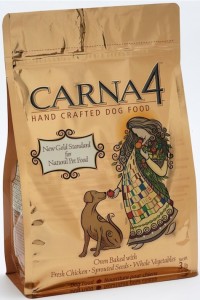 Carna4 has announced new, lower pricing for all sizes of it's unique Chicken kibble. The price decrease comes as many other manufacturers continue to raise prices. The price drops range from 12-15%.
According to the company, Carna4 has "gained substantial efficiencies in the last year, particularly after moving production to Canada". The price reductions are being passed along to you and are reflected on our Shopping Cart.
Carna4 also recently introduced a new grain- free Duck formula, which is available by special request. Like the original Chicken formula, Carna4 Duck is minimally processed and contains organic sprouted seeds. It is available in a 3 pound or 13 pound bag.
The Duck formula is made with Duck, Pork Liver, Eggs, Certified Organic Sprouted Barley Seed, Potato, Wild Salmon, Sweet Potato, Certified Organic Sprouted Green Lentils, Certified Organic Sprouted Flaxseed, Certified Organic Sprouted Red Lentils, Whole Peas, Whole Apples, Whole Carrots, Sea Salt, Dried Kelp, Ground Rosemary. All vitamins and minerals are provided by the whole foods in the formula, with no synthetic vitamin/ mineral premix added.
Samples of the Carna4 Chicken formula are now available, and Duck samples will be arriving shortly. Ask us about introductory discounts on your first order!