Bravo Pet Food has issued a limited recall for its Beef Blend for Dogs and Cats, and its Premium Turkey formula because they have the potential to be contaminated with Listeria.
The company is recalling the following sizes and product dates:
Product: Raw Food Diet BRAVO! BEEF BLEND for DOGS and
CATS (Made in New Zealand) All 2lb., 5lb., and 10lb. tubes 
Product Numbers: 52-102, 52-105, 52-110
Best Used By Date: 10/10/15 or earlier


Product: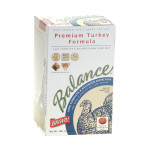 BRAVO! Balance Premium Turkey Formula (Manufactured by: Bravo! Manchester, CT) 3 lb. box with (12) 4oz. burgers
Product Number: 31-401
Best Used By Dates: 1/07/16 and 2/11/16
Some of these formulas returned positive results for the bacteria during FDA testing.
Bravo is also recalling other formulas which did not test positive, but were manufactured on the same day, at the same facility as the above products. The full list of recalled products can be found on Bravo's website.