Your Special Offer |  News |  Features of the Month |  New Products |  Treat of the Month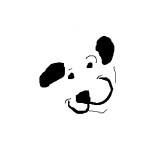 Happy June!
In honor of what we expect will be a wonderful summer this year, we're offering you not one, but two special offers this month!
Thanks to all who took the plunge and checked out our new shopping cart last month. We truly appreciate your feedback, and are using your comments to continually improve.
A common question we've heard was whether the Shopping Cart is now the "preferred" way to order. The answer to that is entirely up to you. The cart was introduced for your convenience. If you prefer to continue to order by email, phone or Secure Form, that is just fine. The "preferred way" is your preference, not ours!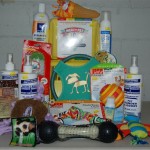 $25 Boneyard Box- save over 75%
Want to enjoy the type of savings usually available only in our closeout area at Woofstock? Grab one of two Boneyard Boxes that we've put together!
These collections include an assortment of toys, treats, and supplies from our closeout rack. Regular price totals well over $100. Keep what you need and share some of the other goodies with your friends!
Only two available- when they're gone, they're gone!
Save 5% on any Shopping Cart Order
Use Coupon Code WOOF during your checkout process to save 5% on any Shopping Cart order this month.
Last month, you may have encountered a problem in using the coupon code. We expect that issue has been resolved, so we're extending this offer. Let us know what you think of the cart!
We invite you to join us on Sunday, June 20 from 10am-1 pm. This annual fund raiser benefits the Help the Animals Fund of the Seattle Animal Shelter. It's our first show of the season- stop by and spin to win!
Canine Kisses and Cancer Cure?
A new study has been launched, which will use dog's saliva samples to develop a new approach to fighting some cancers. The Canine Hereditary Cancer Consortium,  an alliance of the Translational Genomics Research Institute and the Van Andel Research Institute, will be studying naturally occurring cancers in dogs.
The types of cancers to be studied are more common in canines than humans. Since the research will use more readily available canine samples, it is hoped that the results will provide benefits to both dogs and humans. A short TV news clip highlighted the work being done in Phoenix.
Honest Kitchen Rewards Program
The Honest Kitchen has announced a new rewards program. Regular users can earn free t-shirts, organic bamboo blanket or food. Sign up for their e-newsletter and earn 20 bonus points.
Delta Society bans raw feeding from Pet Partners therapy program

The board of directors of the Delta Society have recently voted to implement a new policy which will prohibit any dog being fed a raw diet from participating in the Pet Partners therapy program.
We have long been supporters of the work that the Delta Society does, and are disappointed in this recent decision. Some of the reasons cited in the decision appear to be unnecessarily broad.
We certainly share the concern regarding potential exposure of individuals with compromised immune systems to germs. We question whether revised grooming and preparation standards, rather than an outright ban on raw feeding, would achieve comparable results.
We hope that further research and documentation submitted to the Delta Society will lead to a revision or reconsideration of this ruling.
Natura Pet Foods sells to Procter and Gamble

Procter & Gamble has announced it will purchase Natura Pet Products and expects the deal to close by the end of June.
Natura is the manufacturer of Innova, California Natural, Evo, Healthwise, and Karma.
The company has a short notice on their website announcing the" change in ownership, but not philosophy or commitment to quality."
Procter and Gamble currently owns Iams and Eukanuba pet foods.
Darford MegaBones
Looking for a "substantial" cookie for your big dog? Look no further than these all natural biscuits, weighing just under 1/2 pound each! Save 20% on Peanut Butter, Cheese or Breath Beater flavors. Buy 3, get one FREE! $2.75 each
Save 10% on Merrick Flossie treats
Save 10% on our latest treat addition- Merrick Jumbo Flossies ($5.75) and Phat Flossies ($7.25). These natural chews are spiral shaped, beef tendon. Phat Flossies are extra wide, and both measure 10-11 inches long.
Save 15% on Small Fur Balls
Save on these 3 inch, squeaky fur balls. Inexpensive, simple toy holds your scent and is machine washable. $5.75
Save 10% on Tabby Tinsels
These favorite cat toys seem to always manage to get lost and gather secretly in hidden corners. Replace your cat's "stash" this month and save 10% $0.60 each.
Kyjen Invincibles
These new squeaky toys have no stuffing to be strewn around the house. They come in two sizes and have multiple, self healing squeakers. Choose from Red/ Black or Green/ Black. 14 inch (3 squeaker)- $10.75 ; 26 inch (6 squeaker)- $16.50
Mr. Barksmith's Smoothies for Dogs
These all natural, low fat Cool Treats can be stored in your cupboard, then popped into the fridge or freezer for a cool summer treat. Available in Fruit Delight or Peanut Butter, each 1.75 oz. cup is about 30 calories. Packaged 6 cups/ carton $6.25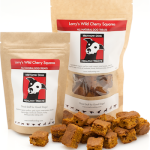 Methow Dog Wild Cherry Squares
A very tasty, naturally nutritious, soft square made with rye grown in the Methow
Valley.  A fun combination of anti-oxidant rich cherries, sweet potato and spelt.
Hints of molasses and honey round out this soft-baked treat for your dog. Refrigerate after opening.
Ingredients: organic rye flour, spelt, organic sweet potato, organic eggs, canola oil, molasses, honey, cherries, baking powder, baking soda
Regular price $6.50, Club price $5.50, save 15%