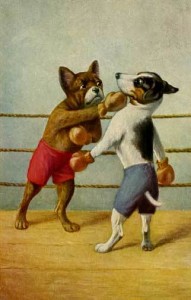 It's not just pet parents that are affected by misleading marketing. A recent industry spat has Blue Buffalo adjusting some of their advertising claims in response to complaints made by Hills Pet Food, makers of Science Diet.
The cause of the complaint? Seems that Hills didn't take kindly to Blue Buffalo's claim that "big name pet food manufacturers are actively trying to conceal the fact that they include chicken by-product meal, instead of meat, as the first ingredient."
I'm not sure which position is more amusing
On one hand, it's pretty hard to conceal the fact that chicken by-products are used in a food, especially when they're listed first on the label. On the other hand, why would any company want to draw attention to the fact that they are using chicken by-proucts as the first ingredient? Maybe I'm missing the point.
This dispute played out in front of the National Advertising Division (NAD), which is responsible for investigating claims of false advertising within the advertising industry. The advertising industry self-regulates, so this is more like a family quarrel than a lawsuit. (There is a realted lawsuit that's just been launched by Purina— more on that next week)
The second disputed claim centered around Blue's True Blue Test
This is a website comparison test which Hills claimed "makes inaccurate, brand-wide comparisons that imply all, or almost all, products from every major competitor contain ingredients such as chicken byproduct meal."
Blue has agreed to modify its True Blue Test results, but plans to appeal other recommendations to the NAD's parent company, the National Advertising Review Board.
Is Blue is doing something any different than most large pet food companies?
After all, "everyone" claims that they are better than the others.
Apparently a line was crossed and the NAD set guidelines which would seem to be self-evident: "While companies can and should inform consumers about the composition of their pet food, they may not falsely disparage competing products by communicating unsupported messages that these products are less healthy, less safe or nutritionlly inferior."
Well said, NAD. In other words, tell the truth and don't lie. And if consumers don't trust any company to do that, the answer is simpler still. Read labels for yourself to avoid being misled by anyone's advertising.
Want some help deciphering those labels?
(Warning: blatant pitch follows) Have a look at The Dog Food Detective. It was written to help you how to read labels better and understand how to see through the confusion and hype of dog food marketing.