Looking for a long lasting, flexible toy that will hold your dog's interest? Have a glance at the new line of toys made with Bionic Rubber.
Bionic Rubber is made from FDA food-grade materials that is 100% recyclable. Bionic Rubber has been rigorously tested in rescue shelters and day cares around the U.S. and is safe for your pet. It does not contain any harmful phthalates, hormones, lead, cadmium, mercury, and natural rubber, Bisphenoal A, asbestos or latex.
This material withstands aggressive chewing as well or better than other toys of legendary durability like Kongs and Hurleys for dogs up to 60 pounds. It floats and is dishwasher safe. Multiple shapes allow you to choose from toys designed for play, fetch, interaction and challenge.
The Bionic Bone was designed to fit naturally in the curvature of the canine mouth. According to the manufacturer, the ridges across the top give your dog the feeling that they are chewing through the toy – keeping them interested in it for months! Its unique interior shape provides strength for even the most aggressive chewers. Available in Small ($8.75), Medium ($13.75) and Large ($18.75) sizes.
The Bionic Stuffer features 2 sizes of openings which can be used with treats or kibble. The stuffer hole used for filling the openings also allows it to be used with strip type treats.
It is easy to fill, and can be tossed into the dishwasher for easy cleaning.
Simply push open the coin purse opening to insert kibble and treats. When your dog is done playing, throw the toy in the dishwasher for easy cleaning. Recommended for dogs up to 60 lbs.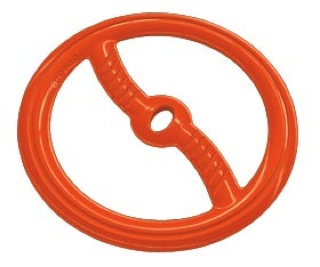 The Bionic Toss n Tug can be used as a tug or retrieval toy. It is not intended for use as a chew toy. The Standard Toss n Tug is 9 inches in diameter, similar to the familiar Frisbee. It is suitable for dogs 35-60 pounds. The Mini Toss n Tug measures 7 inches in diameter and is suitable for dogs under 35 lbs.
The toy floats and the bright range color helps with visibility in water or grass. The flexible design of the Toss n Tug allows the toy to be inverted to form a tug for interactive play.