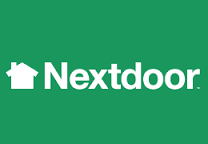 Do you belong to your neighborhood Nextdoor group?
Do you appreciate what Smiley Dog does for you? We'd welcome an introduction to your neighborhood!
In the never-end quest to explore low and no cost options to help spread the word about Smiley Dog, we invite you to recommend us to your Nextdoor group.
Nextdoor is a private social network limited to residents of your neighborhood. It allows neighbors to talk to each other online and share community tips, warnings, referrals and much more.
Nextdoor has recently rolled out its new business page option. It's not an advertising opportunity- no commercials or annoying pop ups are allowed. It's simply an extension of the valuable information exchange that you've come to know and love from Nextdoor.
Simply click this referral link, or visit https://nextdoor.com/pages/smiley-dog/recommend/, and say a few words about your experience with Smiley Dog.
Help your neighbors enjoy the same benefits from Smiley Dog that you enjoy. They (and we!) will appreciate you sharing the info!