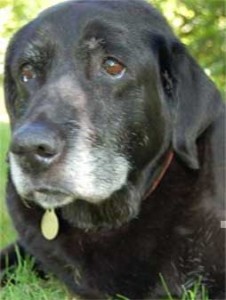 Hemangiosarcoma became suddenly familiar in the winter 2006 when the Founder of Smiley Dog was diagnosed with this aggressive form of cancer. It was a shock to hear the prognosis of just 4-6 weeks.
A scramble to research possible treatment options yielded only dead ends. Diet was radically adjusted, Vitamin B-12 and Yunnan Baiyao, a chinese herb, were used in an attempt to help slow the progression. It worked for a while, but 6 months later it was time to say goodbye.
I was now more familiar with this disease than I cared to be
A few weeks ago, I became aware of a blog written by a pet parent from Colorado whose dog, Addie, had been diagnosed with hemagiosarcoma.
Hemangiosarcoma is not uncommon in dogs, and conventional treatment options are limited to surgery or chemotherapy.  Hemangiosarcoma attacks the blood vessels, causing its victims to bleed to death. By the time symptoms present themselves, the cancer has usually progressed beyond the point of effective treatment. The normal course of action is to manage pain and prepare for the inevitable.
Neoplasene is now being used as an alternative treatment
What caught my interest about this blog was the use of an alternative therapy involving Neoplasene. Neoplasene is derived from the bloodroot herb. Bloodroot has traditionally been used by Native Americans for its medicinal properties.
Neoplasene can be used in an oral, topical or injectable form, depending on the cancer being treated. It works by stimulating the immune system to oxidize cancer cells without affecting the surrounding healthy tissue cells. The dead cancer cells then slough off.
Different outcomes for the same disease
Reading through Addie's Blog, I was reminded of our Founder's early days of diagnosis and lack of treatment options. Once Neoplasene was added to Addie's treatment options, the two stories diverged.
Addie was initially given 6-10 weeks to live once she was diagnosed. Since then, her family has said goodbye to one canine companion, added another dog to their household, and recently moved to Costa Rica, where Addie's treatment continues. Addie celebrated her 14th birthday in October and is coming up on her 4th anniversary of beating cancer.
Another intriguing part of Addie's case is her recent blood test results
When treating a cancer dog, periodic blood tests are essential. This is one of the few ways that the condition and function of internal organs can be monitored.
Addie's past few tests were showing steadily climbing levels that indicated slow progression of the disease. The last test, taken in early March, showed a dramatic reversal.
Why the change? It could be an error in the analysis, the result of adding an additional chinese herb, or the air in Costa Rica. Or, it could be a reflection of the efficacy of Neoplasene. Whatever the reason, her amazing story continues.
Neoplasene is not without risks
Of course, there are tradeoffs associated with any cancer treatment. Scarring is not uncommon when Neoplasene is used topically. The oral form has an unpleasant taste and must be mixed with food. The dose must be carefully managed to prevent vomiting.
The process also has a fair number of skeptics who feel it is unsafe and should not be allowed on the market. There are case studies that support both positions. The case studies highlighting problems appear to be related to other bloodroot derived products, rather than Neoplasene. The Neoplasene case studies presented by the manufacturer appear quite convincing.
The purpose of this piece is to raise awareness
Dealing with cancer is a heart wrenching experience. In all its forms, cancer kills more pets each year than any other disease. Despite the number of cases and ongoing research, effective treatment remains elusive.
We're not writing this to advocate Neoplasene as a miracle cure. It is intended to give you a potential option to consider if your dog is faced with the dreaded cancer diagnosis.
If you find yourself in this situation, you may choose a traditional surgical or chemotherapy approach. Neoplasene may not appeal to you as an option at all. But having the knowledge to make that choice is a small step in the right direction.
Read more about Neoplasene and see case studies at the Manufacturer's website.
Have you been through an incident with your dog that might be of interest to our clients? Let us know, and perhaps we can write a brief article highlighting your experience to share what you've learned.