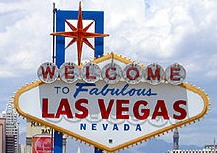 Do you believe that what happens in Vegas stays in Vegas? That may be true for some. We beg to differ.
Next week we'll be attending SuperZoo, one of the largest pet industry trade shows in the country. We're looking forward to the educational seminars and sniffing among the vendor booths for all things new and interesting.
This is your chance to tag along! Let us know what you're curious about, and we'll keep our eyes peeled for you.  Are you looking for a new toy, treat or food? Have a question or a bone to pick with a manufacturer? Make your request on Facebook and we'll post our findings on the page during the show.
You never know what may turn up at these shows. We've met pink (and tie dye) poodles, visited with Lassie (yes, that Lassie),  marvelled at vacuum assisted pooper scoopers and self serve dog dryers, discovered fascinating products that have never made it to market, and narrowly missed a collision with a mini horse walking the show floor. And of course, there are wonderful toys, treats, food and info that come back with us.
We invite you to share in the fun so it doesn't all stay in Vegas. Let us know what's on your wish list!