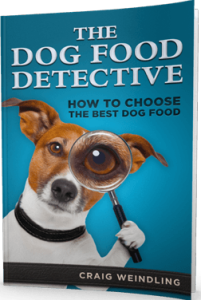 A new book, The Dog Food Detective, is expected to be available by the end of June. The book has been in the works for the past 3 years, and is currently in the final stages of layout prior to printing.
The Dog Food Detective explains how a simple system can take the confusion out of choosing a dry dog food. Its simple approach allows anyone to navigate through the maze of available food options and arrive at the best food for their needs.
Beginning with personal preferences, the book guides pet parents through a simple 3- step system which can be easily adjusted as needs change. The Dog Food Detective offers a simplistic but practical approach to choosing a dry dog food. It offers a solid foundation to build upon when getting started on the journey into the often confusing world of pet food.
Choosing dry dog food is usually the first step of exploring better nutrition for our pets
If you've ventured beyond dry dog food to home prepared or raw diets, which we heartily endorse, this book is not for you. But if you or your friends are feeding dry and want to understand how to quickly evaluatre or compare your dry food options, have a look at The Dog Food Detective. You may never look at another bag of dry dog food in the same way again.
The Dog Food Detective will be distributed to local rescue groups, shelters and vet offices to help new pet parents overcome one of their most difficult challenges- choosing the right food.
Want to help with this effort?
Let us know if you're involved with a local rescue that might benefit from sharing the information in this book. If you'd like to see a copy of The Dog Food Detective in your vet's waiting rom, please let us know.
You can help make free copies available by supporting the crowdfunding campaign for The Dog Food Detective through the middle of June. All proceeds go towards final publication expenses which includes complimentary copies for distribution.
Click here to preorder The Dog Food Detective
Click here to contribute to The Dog Food Detective crowdfunding campaign