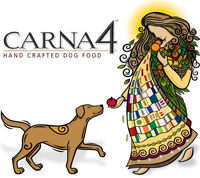 Last weekend I had the pleasure of attending the first Seattle Pet Expo, held at Seattle Center. I was pleasantly surprised by the variety of booths and activities, even though Smiley Dog was not among the official participants.
I spent most of my time helping out at the Carna4 booth, and had the opportunity to learn even more about this unique food from David Stauble, the founder of the company. Listening in on his conversations with pet parents was enlightening, despite already being familiar with the products' benefits.
It was interesting to learn that David refers to Carna4 as an "air-dried nugget" rather than a kibble. This makes sense, since Carna4 is cooked at low temperature for under 5 minutes and then air-dried, which preserves most of the nutritional value of ingredients.
High temperature and high pressure is used in the extrusion process which produces most kibble. Extrusion is a highly efficient production process which allows custom shapes and sizes, but also extracts a toll on the nutritional vaue of ingredients. Some of the nutrients lost during extrusion are replaced when vitamins, minerals and other supplements are added to the finished product after cooking.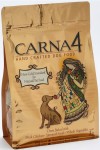 Carna4's process preserves the nutritional value of its whole food ingredeints and uses sprouted seeds, rather than synthetic vitamins and minerals to meet nutitional requirements. Each bag contains 50% human grade meat, never any meal, with the balance of ingredients made of sprouted seeds and other whole foods.
Carna4 may come in a bag like other dry foods, but that's where the similarity ends. If you'd like to learn more about this unique product, or try  sample, please let us know!