Click the image below to download your Gift Certificate.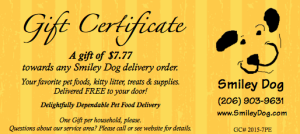 Remember, this page will disappear on September 15, 2015.
Once downloaded, your Gift Certificate does not expire. Use it yourself, or pass it along to a friend.
One Gift per household, please!
While you're here, why not have a look at The 10 Commandments for Choosing Healthy Pet Food?
Or, even better, sign up for the monthly newsletter below!